Not Enough Sage
in collaboration with Estella Burque
2019
mixed-media (photograph, offset printing, seed beads, and bugle beads)
While "playing Indian" has always been central to the process of settler colonialism and the elimination of actual Native peoples, knowledges, and practices, the cultural appropriation of Indigeneity has recently escalated to such a degree that it simply cannot be dismissed. The theft and appropriation of Indigenous medicines and ceremonial practices has become so prominent that it is no longer even limited to the independently-owned hipster and new-age boutiques that gentrify communities of color out of home and health. "Sage wands" and "smudge kits" can now be purchased from multinational corporations ranging from Walmart and World Market to Anthropologie, Urban Outfitters, Whole Foods, and Sephora. These "products" are mass-produced and frequently involve the violent and invasive clear cutting of entire fields of sage (although sage suppliers would prefer to imagine themselves as "sustainably wildcrafting" the plant) and are done without the consent, and even against the will, of the very Indigenous communities from which the knowledge and practice of smudging originate. Sage suppliers, such as Hall Newbegin – the founder of Juniper Ridge – hide behind settler colonial logics that allow them to make such preposterous claims as: "The fields where most of the wild white sage in the world comes from is in no man's land: the inland empire in the Los Angeles Basin from San Jacinto to the San Bernardino range," even as the Southern California Native communities who have stewarded these very lands since time immemorial have repeatedly called for a cessation on the mass harvesting of the sacred plant.
One of the most disturbing outcomes of the cultural appropriation and outright theft of Indigenous medicines and ceremonial practices is that it credits the capitalist and heteropatriarchal settler state with the very sort of ecological intelligence that originates in and is consistently stolen from Native communities in the process of thieving, commodifying, and violating Native lands, bodies, and ethnobotanical knowledges. Climate change and environmental degradation is not solely a contemporary crisis. Environmental destruction is central to settler colonialism and all the sage in the world won't cleanse the gluttonous settler soul. Our plant relatives simply won't stand for it. "Not Enough Sage" is a Native feminist response to the ongoing violence of environmental desecration and an assertion of Indigenous resistance and environmental intelligence.
Estella Burque is a citizen of the Muscogee (Creek) Nation and a seventeen-year-old multi-media artist living in Northeast Los Angeles. Raised on unceded Tongva lands, Estella is an active member of the Los Angeles Native community and has both led and assisted others in employing art as a tool for social justice.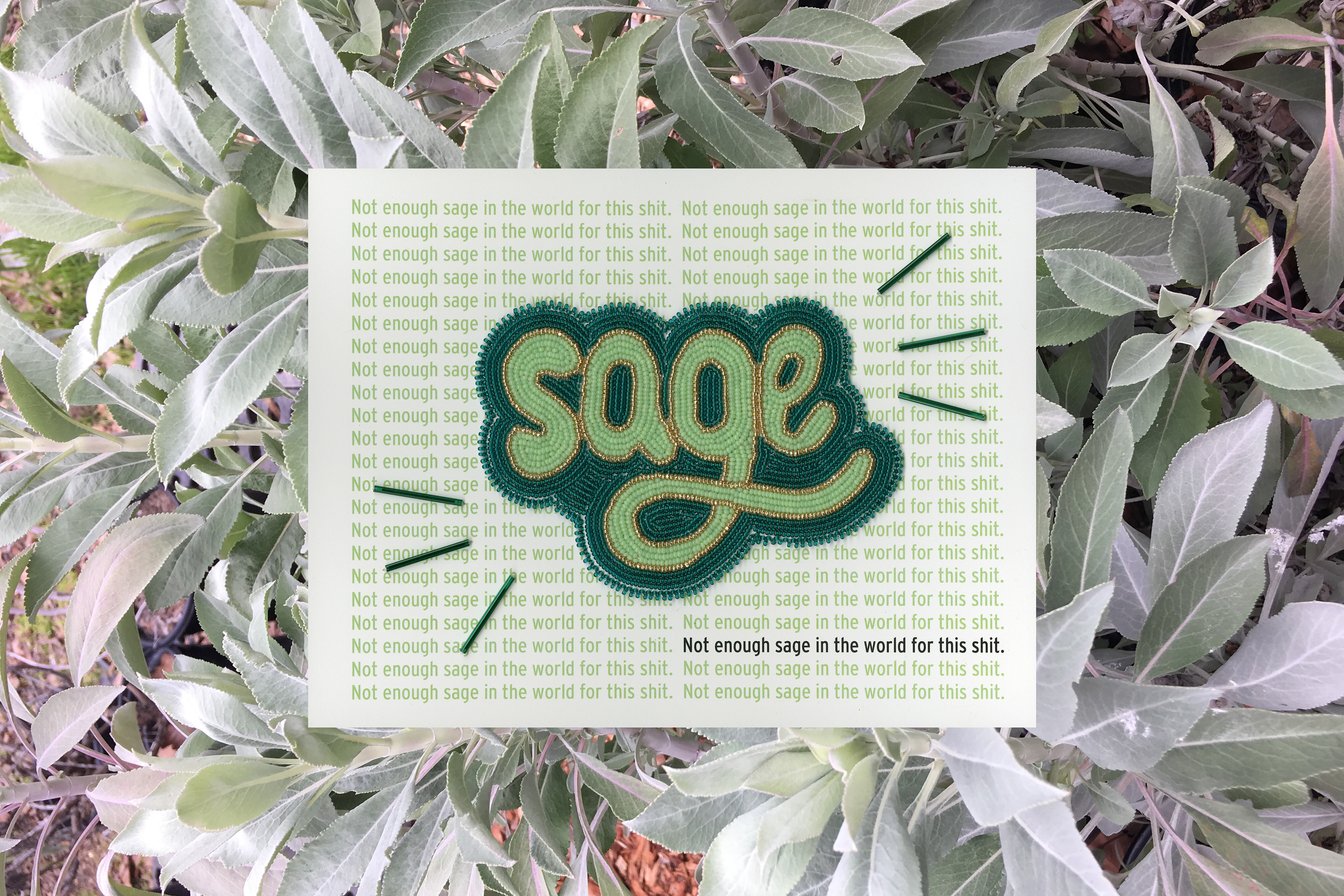 Mekachaa: Plant Relative of Resistance
11 Beaded Poppies (Pony Beads, Wire, Crimp Beads, Wooden Beads), August 2021
In his work as a cultural educator and an advocate for California native plants, Tongva elder Craig Torres continually urges non-Native peoples to recognize that plants are relatives and must be treated with respect and reciprocity. Indeed, he urges non-Native folks to decenter humans from the way we think about the natural world more generally, and to understand that humans are not the only living beings. This articulation of the relationship between humans and plants (as well as lands, waterways, animals, etc.) is reiterated by numerous other Native communities and is foundational to Indigenous ways of knowing and being. The ecological intelligence of Native peoples and the unsettling of white-supremacist ideologies of human domination over the natural world is central to any and all work regarding climate advocacy, land acknowledgement, land repatriation, decolonization, and the like. As a collective of non-Tongva Native peoples and allies living on unceded Tongva (as well as Tataviam, Acjachemen, Luiseño, Cahuilla, and Serrano) lands, we have come together to deepen our knowledge of our California plant relatives and to reflect on our responsibility to the original and current stewards (as well as their ancestors and descendants, past, present, and future) of the California Indian lands that we occupy.
Mekachaa: Plant Relative of Resistance is a collaboratively-produced, social-justice-oriented public art project aimed to recenter California Poppies, designated as the California state flower in 1903, as a California native plant relative (referred to by Tongva peoples as Mekachaa) that has been dominated and commodified by white-supremacy and colonialism for far too long. Whether portrayed as a symbol of the "golden state," literally described as "living plant gold" by John Muir, or as a weedy and invasive plant that can't be tamed and controlled, Mekachaa have been treated as a resource to be extracted and capitalized in attempts to eradicate California Indian peoples and to lay claim to California Indian lands.
Like California Indian peoples, however, Mekachaa are resilient. Drought-tolerant, self-seeding, fast growing, and able to withstand extreme heat, they have resisted the violence and displacement of white-supremacy and capitalism. Despite being marketed and exploited as nothing more than an Instagram backdrop or a symbol of California exceptionalism, Mekachaa continue to live and work in relation to California Indian communities, providing sustenance, medicine, and cultural teachings. This project aims to be a reminder of California Indian survivance. It is a disruption of the original and ongoing erasure of California Indian lands, peoples, and knowledges, as well as of the specific gentrification and ongoing displacement of Native peoples in Los Angeles.
Contributors
Kimberly Robertson (Mvskoke), Project Director Madi Garcia (Kumiai), Project Assistant
Estella Burque (Mvskoke)
Liana Rios (Yoeme [Yaqui] / Quechuan)
Panda (Apache)
LeeAna Espinoza Salas (Cahuilla)
Olivia Espericueta (Descendant of La Jolla Band of Luiseño) Marina Perez
Arianna Perez
Xitlally Lopez
Raven Freebird (Anishinaabe)
With support from Meztli Projects and Samantha Morales Johnson (Tongva). For more information contact Kimberly Robertson (IG @kdrslaysthepatriarchy, goldenrobertson@gmail.com).